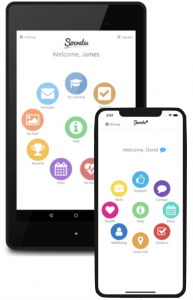 Socrates 360 is a multipurpose platform that provides a wide range of content and services to improve the lives of people in prison and on probation around the world, both during and after their sentence.
Through Socrates 360, we offer an extensive set of education and training materials, as well as advice on careers, health, wellbeing, money management, and much more. In the community, users can access Socrates 360 on their own smartphones, allowing them to continue education and training courses, signposting them to local services and support, and providing advice and guidance on health and wellbeing, housing, employment and other useful topics.
The platform is specifically designed for offline use, allowing users to benefit from our resources any time, anywhere, and meaning no one is excluded. No existing infrastructure is required for in-prison set-up, and equally users with no access to Wi-Fi or mobile data can continue to benefit from content and services.
As well as providing access to content and services not currently available to people in prison or on probation, Socrates 360 is a tool for users to learn and practise valuable digital skills. We have designed the platform to be as accessible and simple to use as possible, meaning even those with very low levels of digital literacy should have no problems. Designed for use on tablets and smartphones, our platform allows users to gain or maintain familiarity with mobile devices, which will undoubtedly be an important tool in their reintegration into society.
Socrates 360 is a highly adaptable tool that can be used in a wide range of different settings. For more information, see our offerings for people in prison and on probation, for staff, and for community use.
Get in touch for a demo.