Allow inmates to stay in touch with friends and family 'face-to-face' with our 360Talk video calling and messaging service.
Socrates provides video calling systems to prisons and jails worldwide, through our easy-to-use, economical, and secure tablet solution.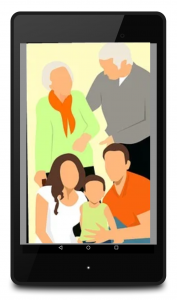 No set-up costs. Our tablet solution requires minimal infrastructure and no on-site servers.
Low cost calls. Our prices are some of the lowest in the sector.
Per minute billing. No need to pay for unused blocks of time – inmates will pay for what they use, and no more.
High security. Our team of technical experts ensure the highest standards of network and data security.
Changing lives for the better
360Talk can be used to supplement in-person visits, helping to give inmates more regular social contact with loved ones. As well as providing essential emotional support, more regular contact can improve family relations, which has been shown to significantly reduce reoffending.
Security is key
Our tablets are fully locked down using our own purpose-built device management software that integrates with Samsung KNOX, a military-grade mobile security platform. This means the tablets cannot be used to access the internet or any other unauthorised purposes.
Flexibility
The 360Talk system can support different models of operation and payment, with free calls to specified numbers. Tablets can be provided on a shared, individual or time-allocated basis.
Socrates integration
Our tablets can also be used for provision of our in-cell Socrates 360 offering. This means inmates can access a wide range of resources for health, education, careers, wellbeing, entertainment and more.
Packed with useful features
Features of the 360Talk system include:
Remote video visitation and messaging

Provided to inmates via secure tablets

Family/friends can use any smartphone/PC

Schedules and time limits

High quality audio/video

Billing/accounting system 

Monitoring and recording

Search, view and download recordings

Live session viewing from admin PC 
For more information, or to request a demo, get in touch.