We work with partners around the world to provide quality educational materials, job advice, care services, and much more to service users in the UK, USA, Australia, New Zealand, and Gibraltar. Our partners include the USA Department of Labor, Open University, G4S, and the UK Ministry of Justice. We are always looking to create new partnerships to help make new and exciting content available to as many prisoners and probationers as possible.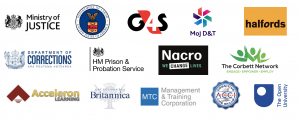 Set up a pilot
If you think Socrates 360 could benefit your organisation, and you would like to work together to set up a pilot for your content, services, prison, CRC, probation or parole area, or for anything else, we would love to help out. Please get in touch using the contact form below.
Request a demo
If you want to experience the Socrates 360 app for yourself, request a free trial using the contact form below.
Get in touch!
If you are passionate about improving the lives of prisoners and think your service or content might benefit from our technology, then we want to hear from you! For more information about what we can offer, or any other queries, please get in touch and we'll reply as soon as we can.